Overview
PTTD is a condition of degeneration and dysfunction in the tendon complex that helps control the medial arch of your foot. Essentially what happens is the complex is unable to do its job of supporting the arch and supinating the foot, so a progressive flat foot develops (usually called adult acquired flat foot). Initially pain and often swelling develops on the inside of the ankle and it will continue to get progressively worse. There are a number of stages of PTTD (3 Stages) and it needs to be aggressively treated early on otherwise a surgical reconstruction of the arch will invariably be required. PTTD can develop into a very disabling condition if it is not dealt with properly and promptly. As PTTD becomes more advanced, the arch flattens even more and the pain often shifts to the outside of the foot, below the ankle. Arthritis often develops in the foot and In more severe cases, arthritis may also develop in the ankle.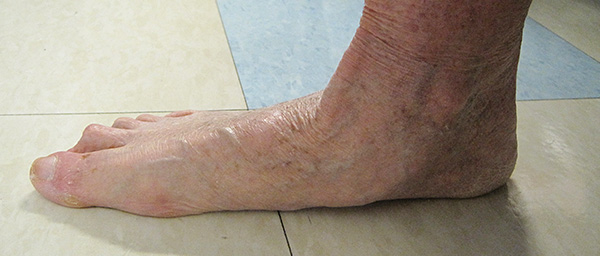 Causes
The cause of posterior tibial tendon insufficiency is not completely understood. The condition commonly does not start from one acute trauma but is a process of gradual degeneration of the soft tissues supporting the medial (inner) side of the foot. It is most often associated with a foot that started out somewhat flat or pronated (rolled inward). This type of foot places more stress on the medial soft tissue structures, which include the posterior tibial tendon and ligaments on the inner side of the foot. Children nearly fully grown can end up with flat feet, the majority of which are no problem. However, if the deformity is severe enough it can cause significant functional limitations at that age and later on if soft tissue failure occurs. Also, young adults with normally aligned feet can acutely injure their posterior tibial tendon from a trauma and not develop deformity. The degenerative condition in patients beyond their twenties is different from the acute injuries in young patients or adolescent deformities, where progression of deformity is likely to occur.
Symptoms
Your feet tire easily or become painful with prolonged standing. It's difficult to move your heel or midfoot around, or to stand on your toes. Your foot aches, particularly in the heel or arch area, with swelling along the inner side. Pain in your feet reduces your ability to participate in sports. You've been diagnosed with rheumatoid arthritis; about half of all people with rheumatoid arthritis will develop a progressive flatfoot deformity.
Diagnosis
Diagnostic testing is often used to diagnose the condition and help determine the stage of the disease. The most common test done in the office setting are weightbearing X-rays of the foot and ankle. These assess joint alignment and osteoarthritis. If tendon tearing or rupture is suspected, the gold standard test would be MRI. The MRI is used to check the tendon, surrounding ligament structures and the midfoot and hindfoot joints. An MRI is essential if surgery is being considered.
Non surgical Treatment
Patients can be treated non-surgically with in-shoe devices and braces to hold their feet in the correct position. This can reduce pain and damage and assist with walking. Physical therapy is also given to improve muscle strength and help prevent injury to the foot. Surgery can be performed if the patient doesn?t find any relief.
Surgical Treatment
In cases of PTTD that have progressed substantially or have failed to improve with non-surgical treatment, surgery may be required. For some advanced cases, surgery may be the only option. Your foot and ankle surgeon will determine the best approach for you.